Why Website is Important for a Business
The surprising fact is the number of companies that do not have a website. You might think that in this modern digital age, everyone will know how important a website is for business. Obviously not, and any company that doesn't have a professionally designed website lacks a powerful marketing tool.
Missing Opportunity for not having website
It takes a record number of consumers to their computers, tablets and smartphones to search for a product or company before buying. If you don't have a business website, you're missing all of this potential business. Even if you don't plan to sell your products or services online, they're still likely to search for them online and search for businesses in their area that sell what they need. You will get a business website with us at very affordable place, if you are looking for web developer in Lahore, we are just a call away to help you.
Website establishes Creditability
The website is also important because it helps you establish credibility as a company. In fact, there are still very few small companies that don't have a website and without this is exactly how it will stay small. Without a website, potential customers will assume you are a small company that doesn't take their business seriously.
First Impression is the last impression
Not only will the website give you credibility, it can also help give the impression that your company is bigger and more successful than it might actually be. Arranging small business before a big multinational competitor at Google and gaining some of their traffic is more important because it tends to level the playing field. For that digital marketing agency is required.
Where to find Affordable Web Services
Surprisingly, there are still a lot of companies that don't have websites, and there are various reasons for this but mostly it is up to business owners who think websites are expensive. It is surprising to know that a website can be created for little money. We offer affordable website design services in Lahore
Affordable web services solutions
You don't need a massive 10,000-page website for your business, just a simple website that tells people about your company, products, services, and contact details. You can get website with DKSystems.com.pk as we are web development company in Lahore
Huge Market base
With more than 2.2 billion people online, the Internet has changed how consumers find and share information. The internet world is expanding at a rapid pace and shows no signs of slowing down. If you are looking for an audience or more customers or people to influence, the web is where your business should be. With more than 8 million Pakistanis using the Internet, it is not surprising that companies with websites earn more revenue each year than websites do not.
24/7 customers can reach you
Websites are flexible and can grow as your business matures. Websites also allow your business to be available 24 hours a day, 7 days a week, all year round. Don't be left in the dust, websites are one of the most cost-effective tools available, taking advantage of the power of the website now. Like if you a store, you can only entertain customers who walk into your store, But, with ecommerce website development services in Lahore, you can have an ecommerce website where, you can not only sale products to your customers when closed but all over the country.
Why SEO Services in Lahore are important for your website or Business?
SEO is all about showcasing your company effectively on search engines, with Google being the most popular one. You want people to click on your website link because they find your product/service most useful. This way you will attract potential customers that can benefit from interacting with your company, instead of having to sift through endless amounts of useless leads.
Search Engines Are Acquiring More Market Share
Stats show that between 80 to 90% of people first research a product/service online before deciding which company they prefer using. If you don't optimize your website with the best SEO tactics, your competitors will snatch up the market share. You need seo expert in Lahore so you get busy with your work and he takes care of your company's seo.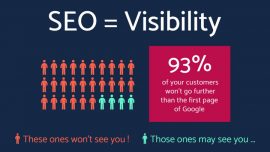 SEO services are on the rise in Lahore
You need to make sure your website is mobile-friendly, displaying correctly on Smartphones. Mobile web users have steadily increased the last few years. It opens up a whole new aspect of SEO tactics, you can effectively target potential customers in your specific area. Your company needs a seo company in Lahore
A Bad Content Profile Can Damage Your Brand
Creating a website once-off and leaving it static for years, will get you penalized on Google. The search algorithm also takes other online platforms into consideration when ranking you, such as Facebook and LinkedIn. If you really want to get updated you need seo services in Lahore.
Your Competitors Are Definitely Using It
SEO remains a never-ending process. You need to tweak your SEO strategy on an ongoing basis. Depending on your industry, keyword competition can be fierce. By thinking a little bit outside the box and using unique long tailed keywords, you can steadily inch ahead of your competitors.
Why do you need SEO Company in Lahore SEO Services are Important?
You need to be consistently active online, on various platforms. Sporadic social media posts, or blog posts once, is not enough. Google wants to know that you are actively engaged with your brand followers. Creating an SEO strategy by expert seo consultant in Lahore from proper us that reaches across online platforms will be the best way of staying at the top of search result pages.